24/08/2012 ♥ Our baby Girl is born.
7988 is my birthdate. I couldn't find something else to name my URL :P
From Dubai , UAE.
Follow my instagram page.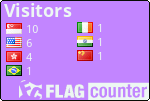 My tumblr page: nothing in this blog belongs to me. & if there is i'll mention it :)
About me: I try to stay away from negative energy in life. Im very thankful for what I have surrounding me , from my family to the very small thing that I would not think of.